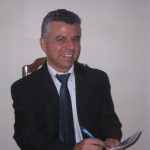 Dr. Sassy Sasson, DSW, LCSW, CMC
Co-founder, President, Doctor of Social Work  
Dr. Sassy Sasson has more than 20 years of experience in the health care system working with the older adult population in long-term care facilities and with those who live in the community.
Dr. Sasson's involvement in private practice focuses primarily on geriatric care management services. He keeps the channels of communication open with his clients and their families and responds to any needs that arise in a prompt and timely manner. In addition, he often acts as a liaison for the family and is a strong advocate for his clients. Most importantly, he directly oversees the care and needs of his clients and their families.
Advanced Education, Licenses, and Specialty Training:
• Doctor of Social Work degree, Wurzweiler School of Social Work, Yeshiva University, New York.
• New York State licensed Clinical Social Worker
• New York State licensed Psychotherapist
• Court appointed Evaluator and Guardian (Samuel Sadin Institute on Law of the Brookdale Center on Aging, Article 81 Guardianship Training)
• Medicaid Entitlement Specialist (Brookdale Center on Aging)                                                                                                                                                   • Certified Care Manager (National Academy of Certified Care Mangers)